SMS Amy Khor's Visit to Shanghai:Industry Engagement on Environment and Sustainability
新加坡永续发展与环境部兼交通部高级政务部长许连碹博士到访上海:与环境与可持续发展行业人士交流
On 22nd September 2023, Dr Amy Khor, Senior Minister of State of the Ministry of Sustainability and the Environment and Ministry of Transport, visited Shanghai and held a closed-door engagement session with representatives in the environmental and sustainability sector. The event was held at DBS Tower, with Sean Lim, Deputy Treasurer of SingCham Beijing, as the moderator.
2023年9月22日,新加坡永续发展与环境部兼交通部高级政务部长许连碹博士到访上海,并与环境与可持续发展行业的代表们举行了闭门交流会。活动在星展银行大厦举行,由中国新加坡商会副财长林天春先生主持活动。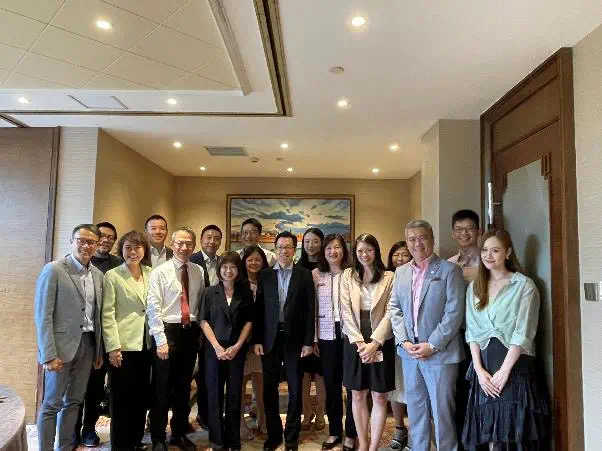 The session first started in the morning with a casual coffee/tea chat with participating companies, representatives from Ministry of Sustainability and the Environment of Singapore, and from the Consulate-General in Shanghai.
活动从早上开始,许部长与与会企业代表、新加坡永续发展与环境部代表及新加坡驻上海领事馆代表们一边享用茶歇,一边亲切交流。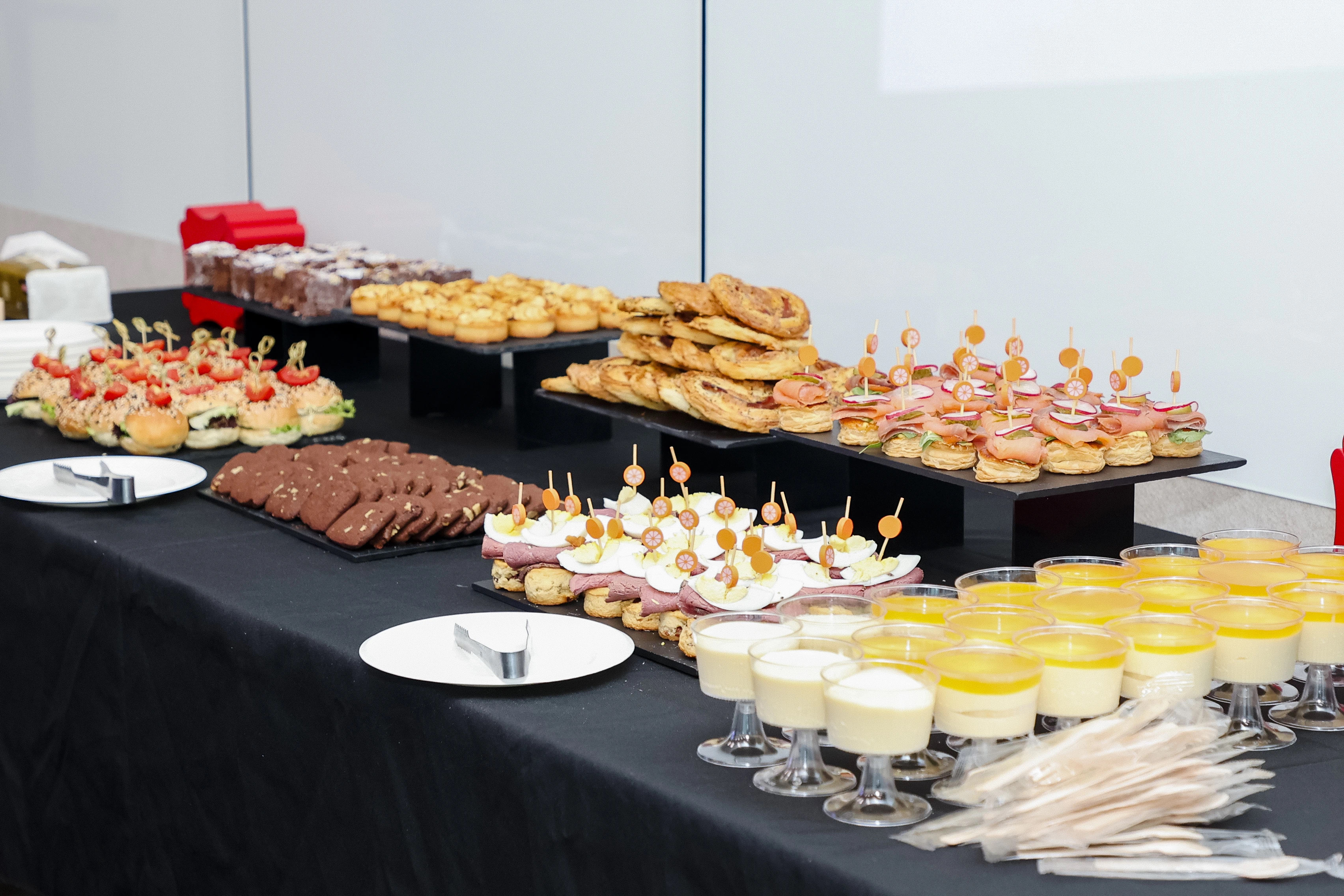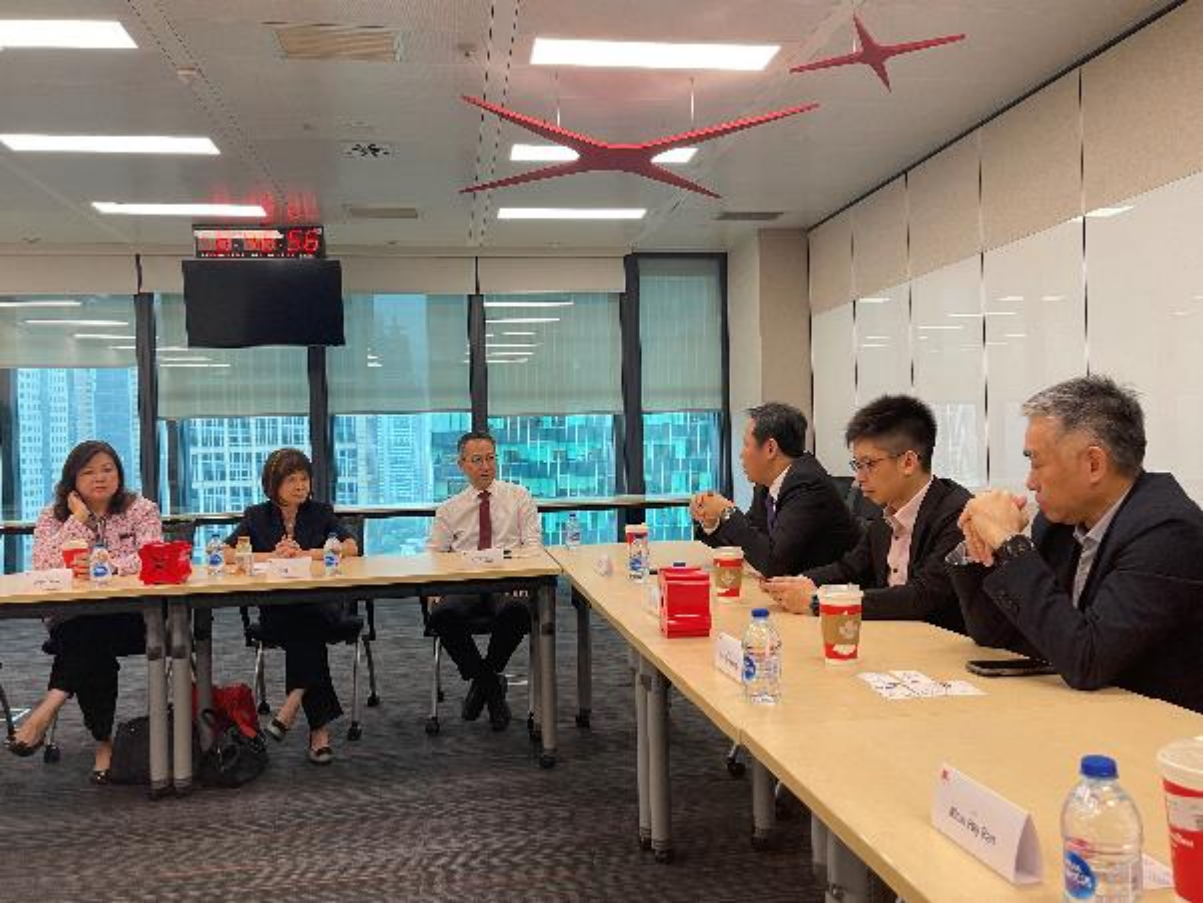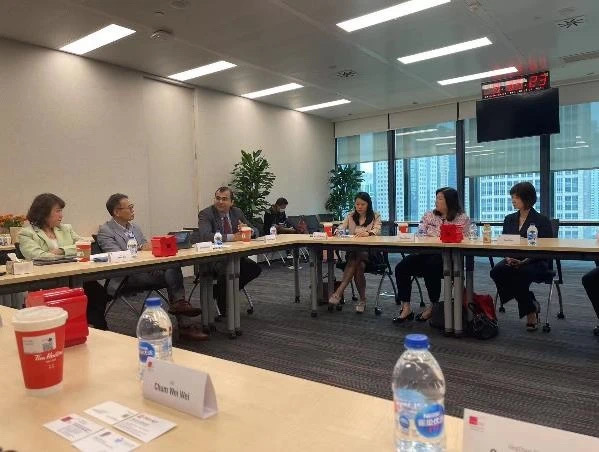 Then, Ginger Cheng, the CEO of DBS China, delivered opening remarks to kickstart the presentation by attending companies.
随后,星展银行(中国)首席执行官郑思祯女士致辞欢迎各位的到来,也开启了企业代表的发言。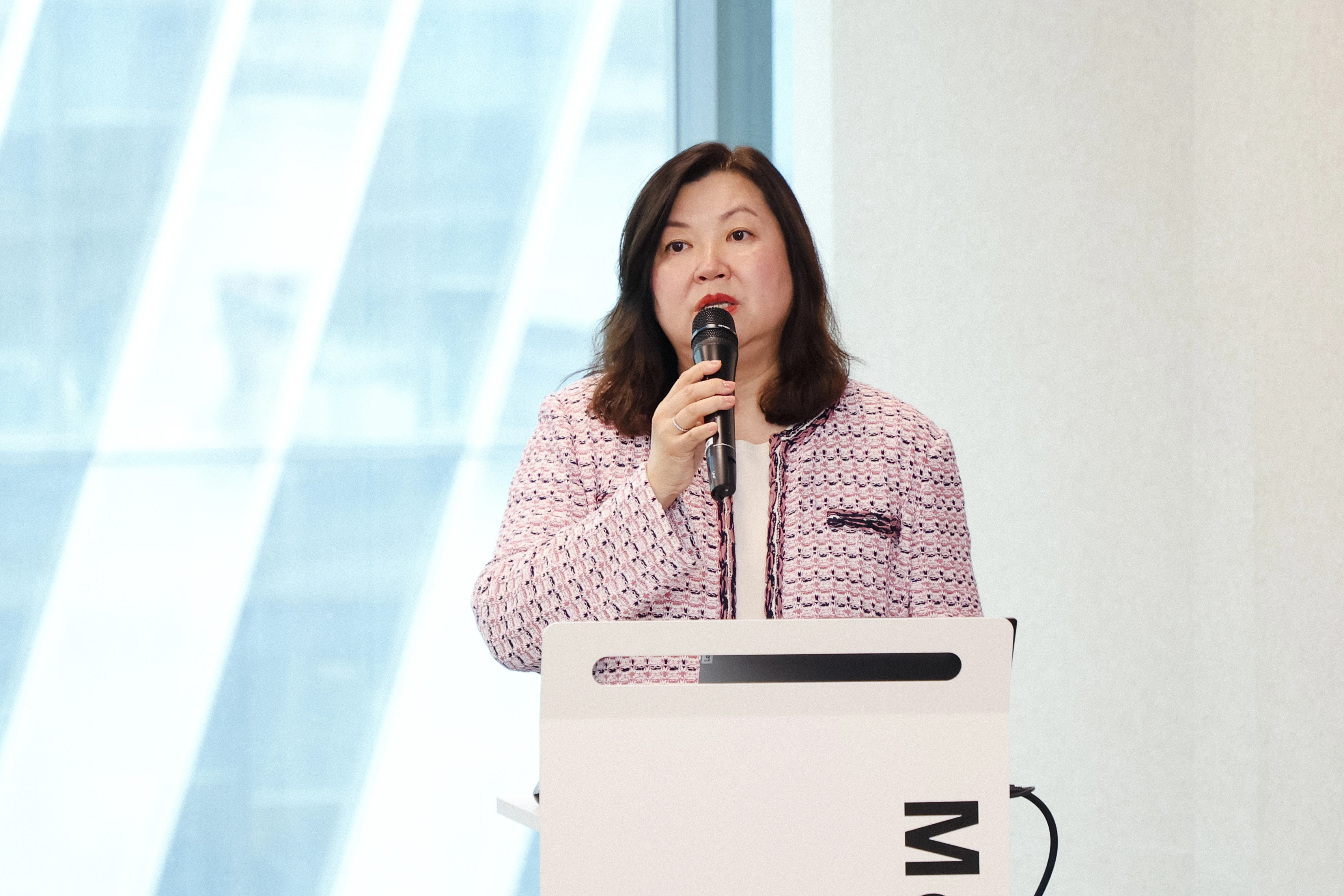 Yvette Chen, Vice President – Investment (Shanghai) of Temasek Holdings, shared on Temasek's sustainability efforts.
淡马锡控股投资部(上海)副总裁Yvette Chen女士分享了淡马锡在可持续发展领域的努力。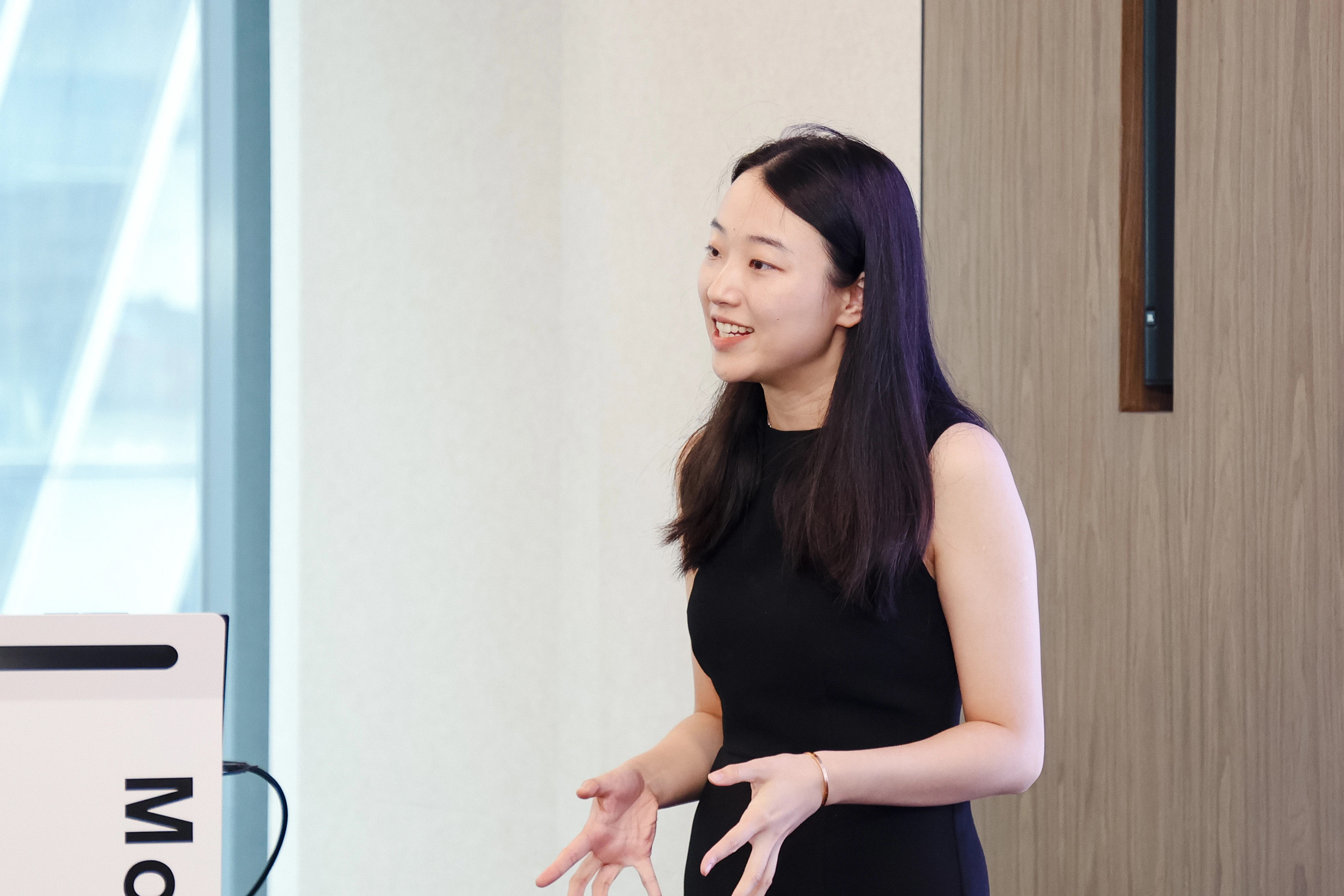 Kevin Li, the CEO of Mojia, shared on Synthetic Biotechnology.
Mojia首席执行官Kevin Li先生分享了生物科技在可持续发展中扮演的角色。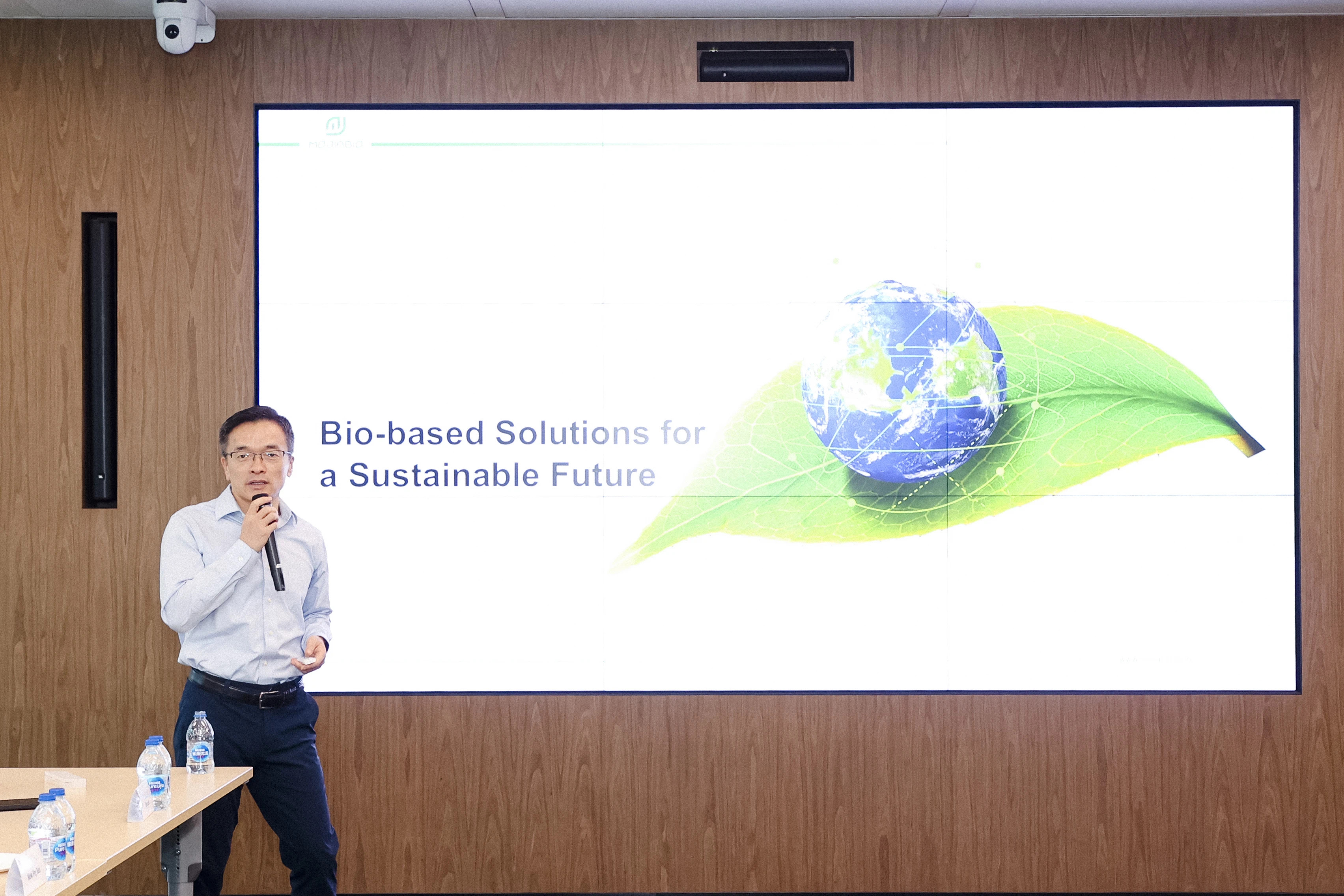 Ong Tze Guan, Chairman of SingCham and CEO of H2MO, shared on Biomimetic Water Separation Membrane technology.
中国新加坡商会会长、H2MO首席执行官王子元先生给大家介绍了生物仿生水分离膜技术。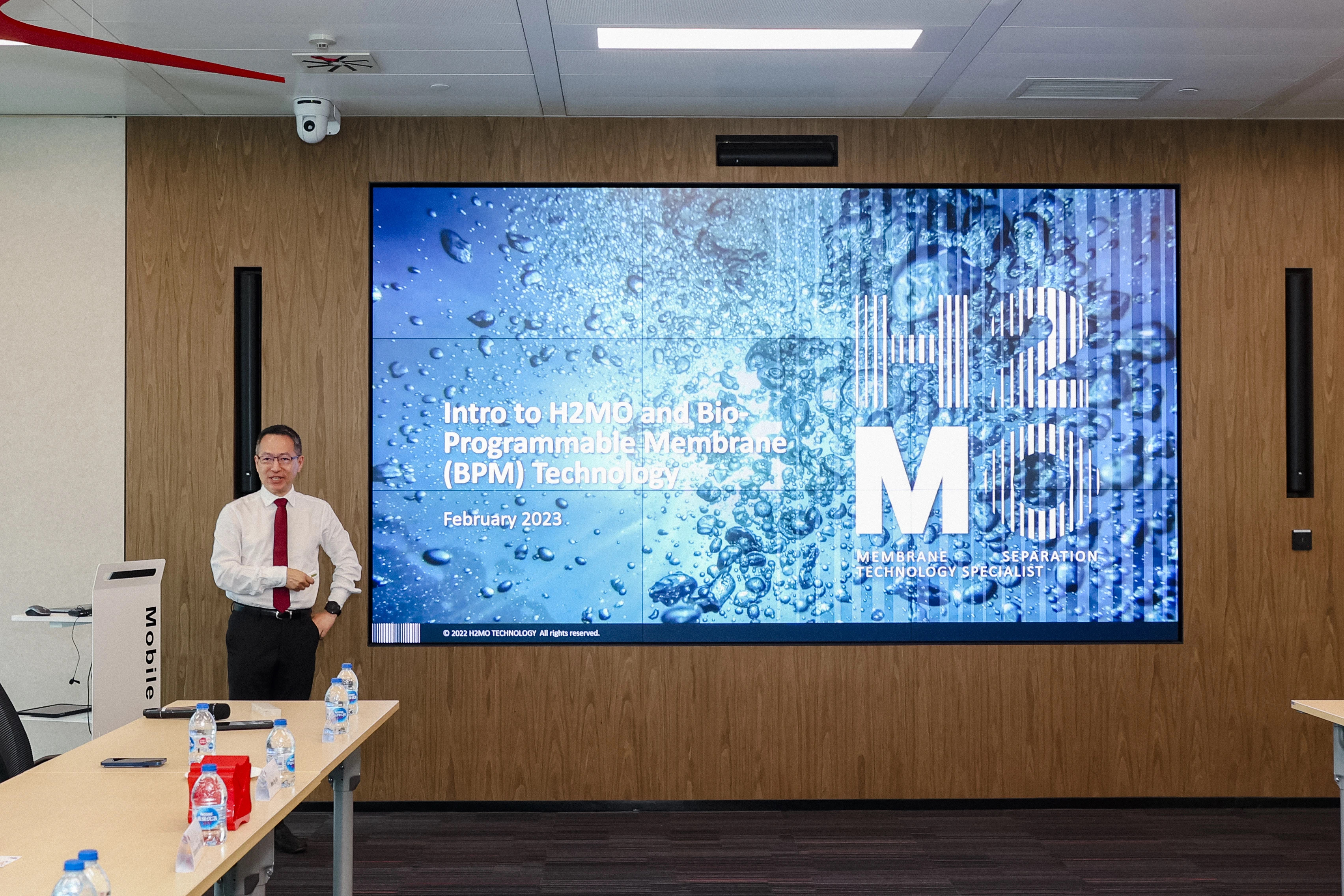 Jayne Goh, CEO of GOODCYCLE, shared on her company's plastic recycling efforts.
GOODCYCLE首席执行官Jayne Goh女士介绍了她公司在塑料回收方面的贡献。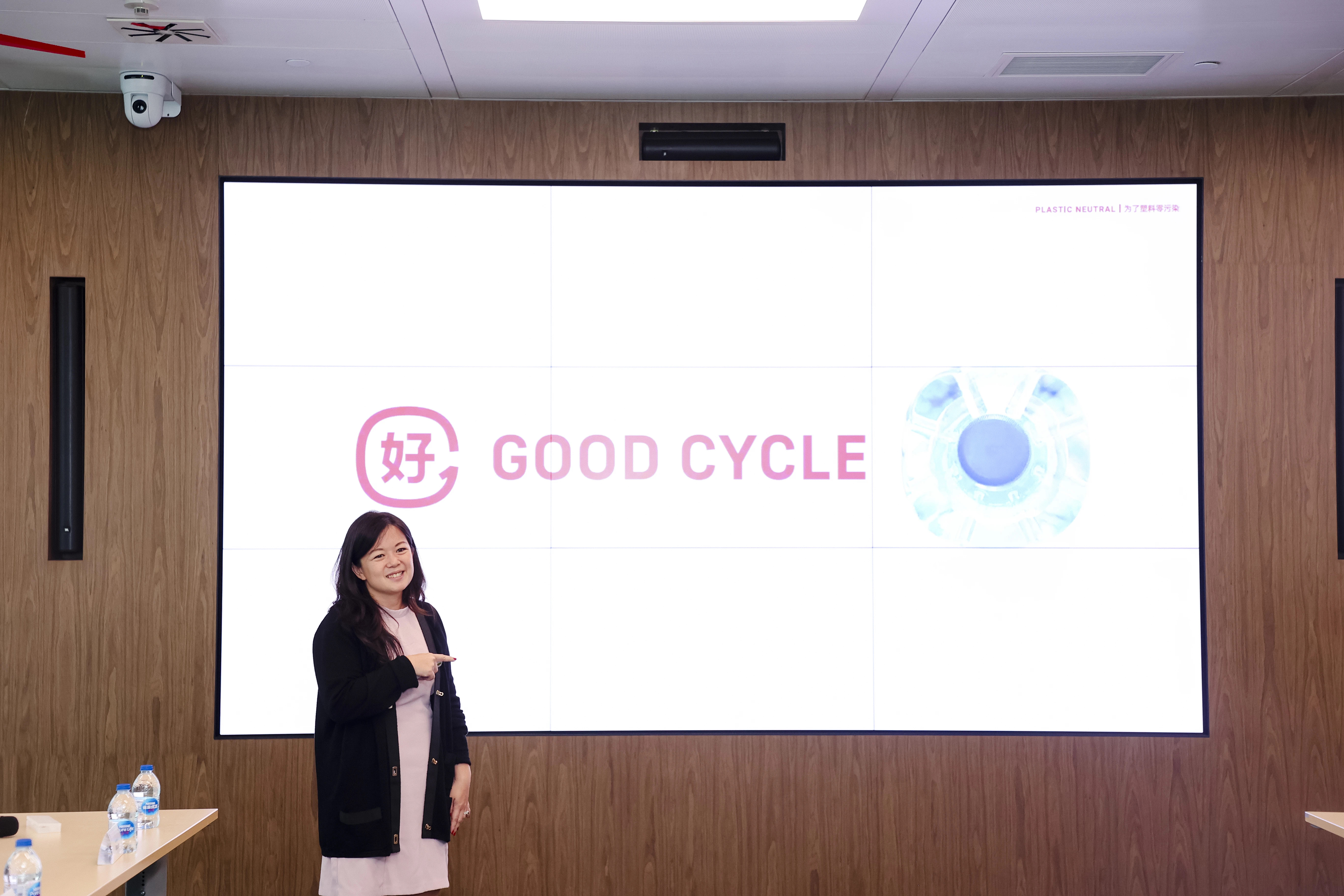 Joyce Tee, Head of Institutional Banking Group of DBS China, shared on sustainable finance.
星展银行(中国)机构银行部主管 Joyce Tee 女士就可持续金融进行了分享。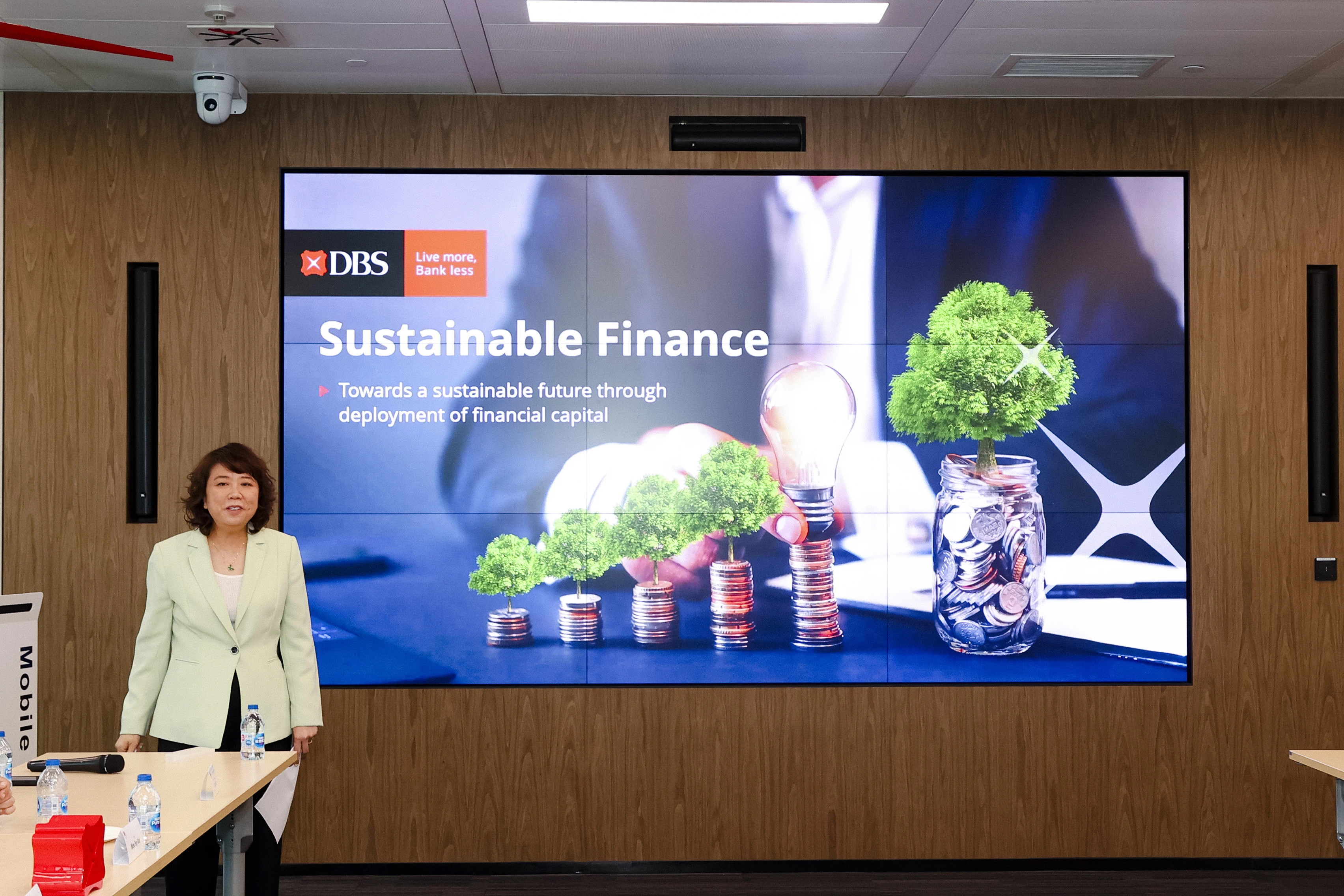 Himanshu Chaturvedi, Regional Head (China & ASEAN) of Olam, shared on sustainable foods.
Olam中国和东盟地区负责人 Himanshu Chaturvedi 先生就可持续食品展开了分享。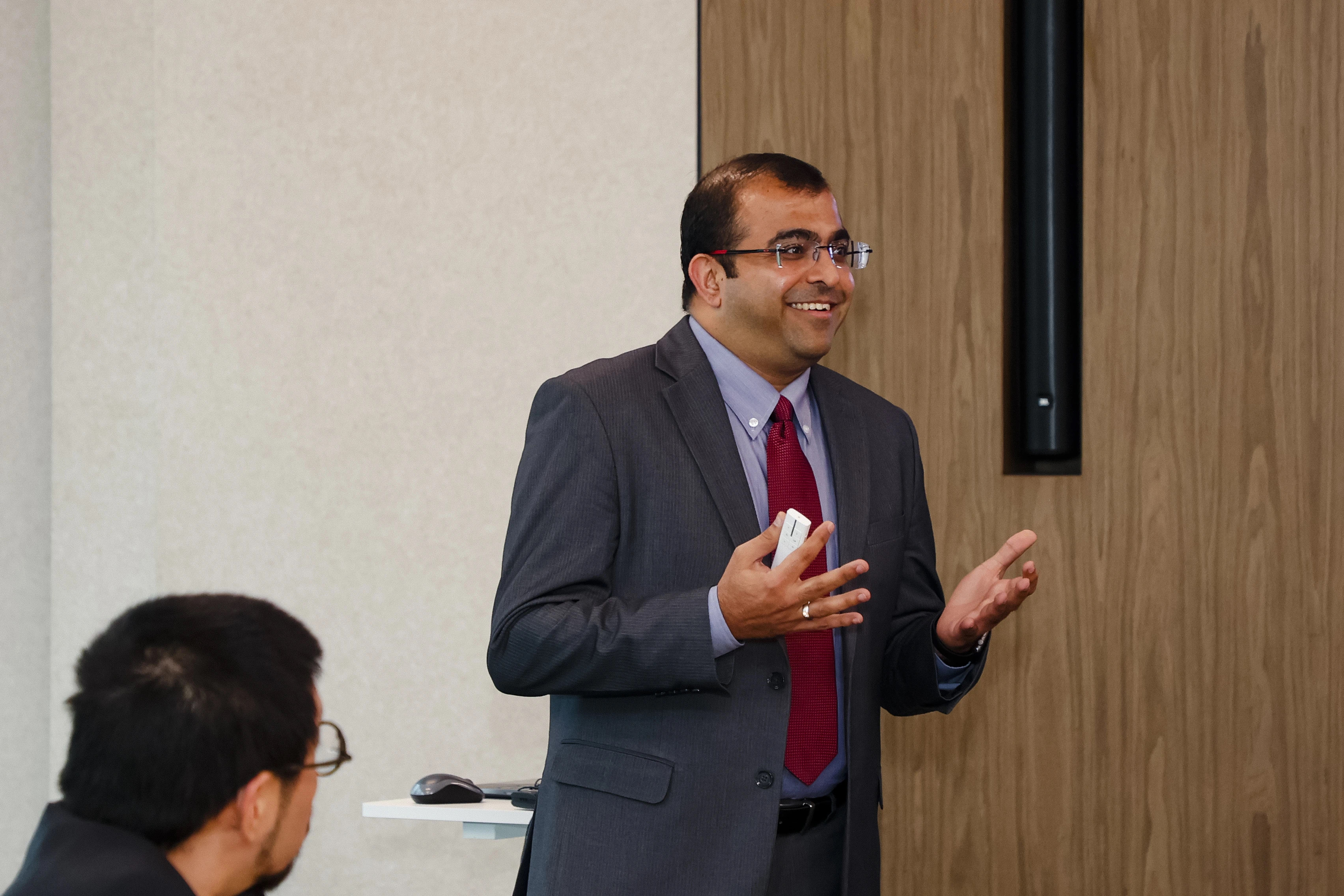 Katherine Kong, CEO of Timing Carbon, shared on carbon credit trading.
Timing Carbon 首席执行官 Katherine Kong 女士就碳信用交易展开了分享。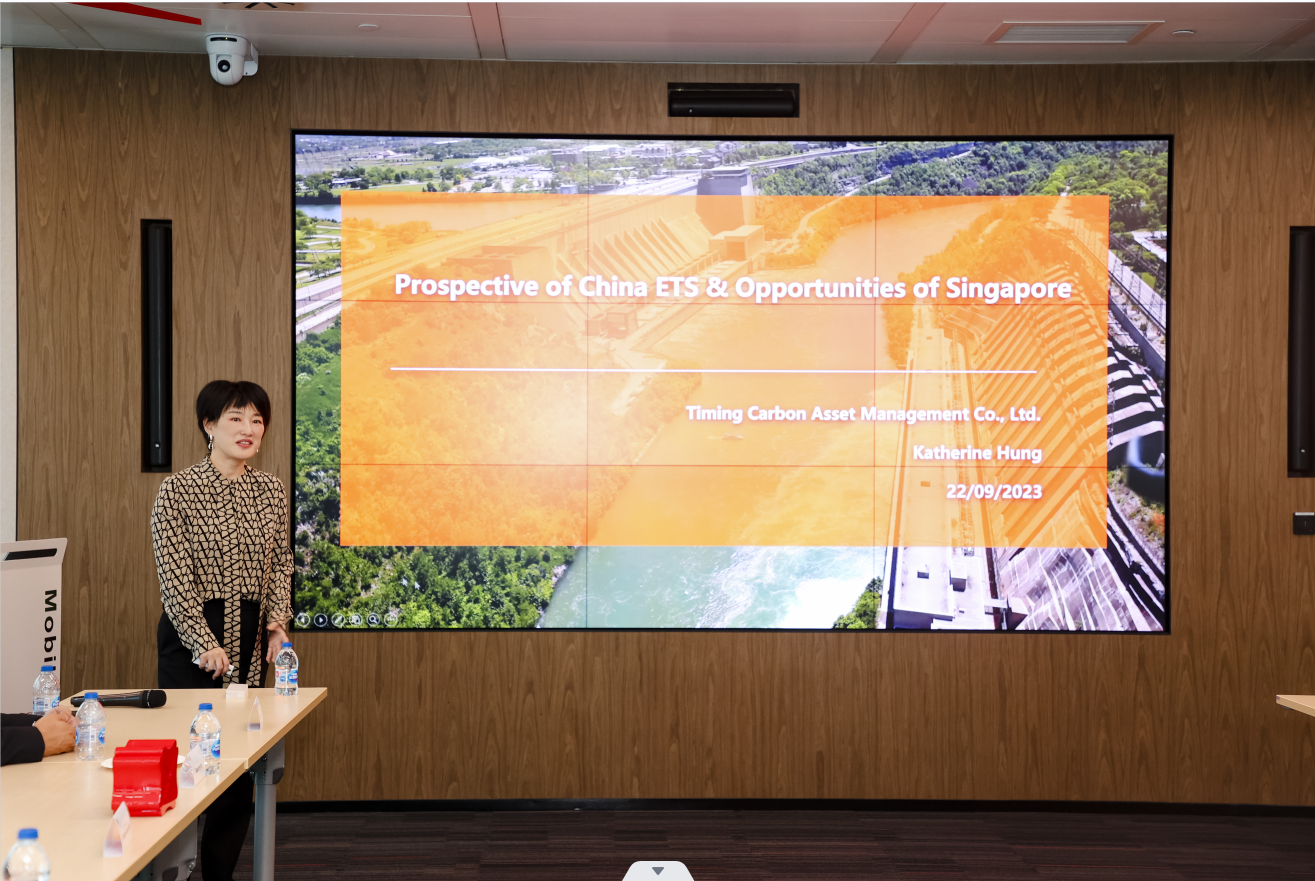 Last, Sean Lim, Deputy Treasurer of SingCham Beijing, gave an overview on the SingCham Sustainability Ecosystem (SSE).
最后,中国新加坡商会副财长林天春先生向大家介绍了中国新加坡商会搭建的商会可持续发展生态系统 (SSE)。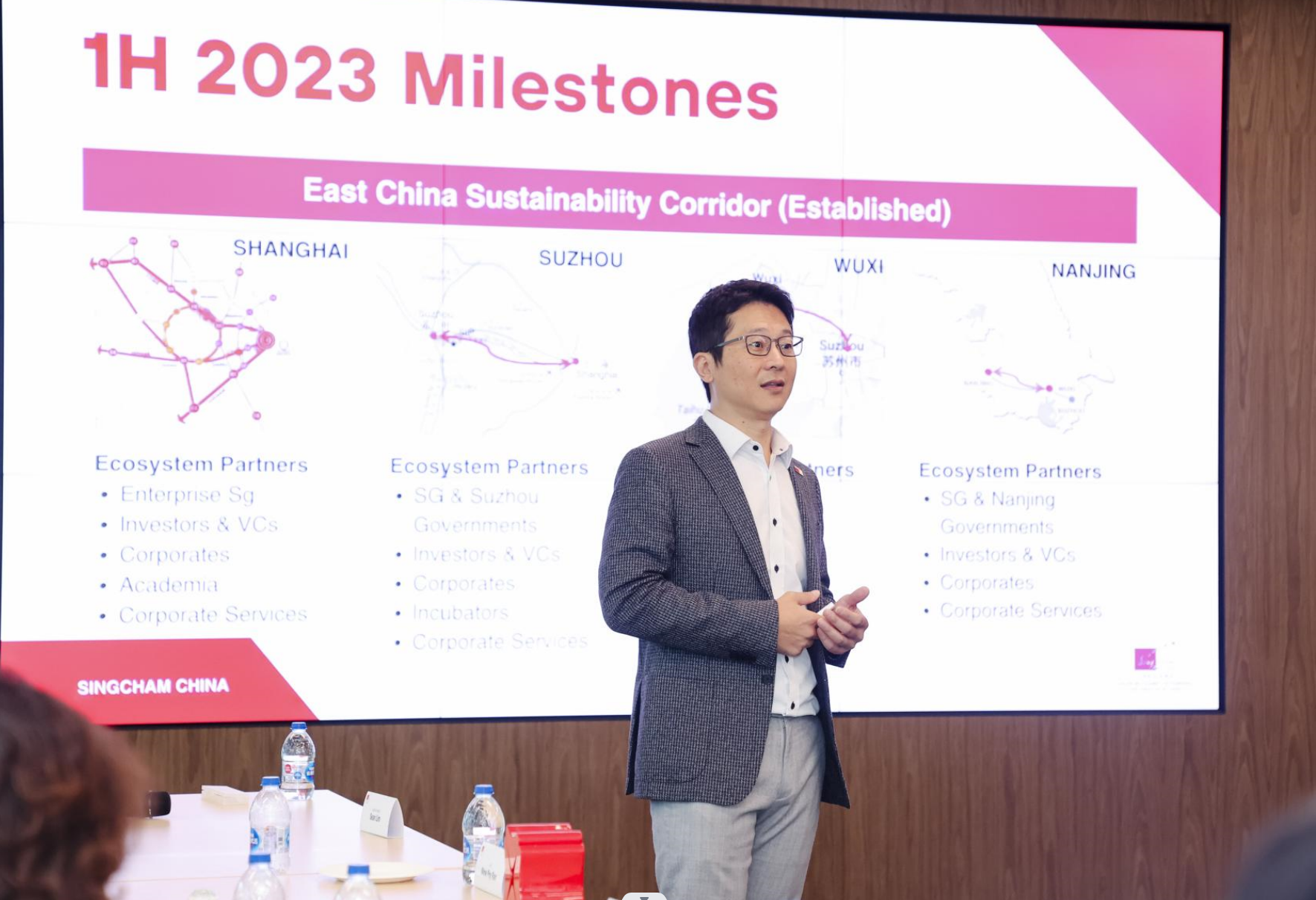 The presentation was followed by a Q&A, and lunch break.
企业代表们的分享至此告一段落,进入到提问环节,随后便是午餐时间。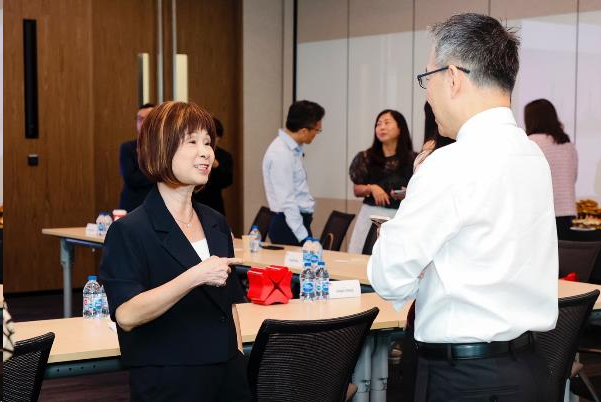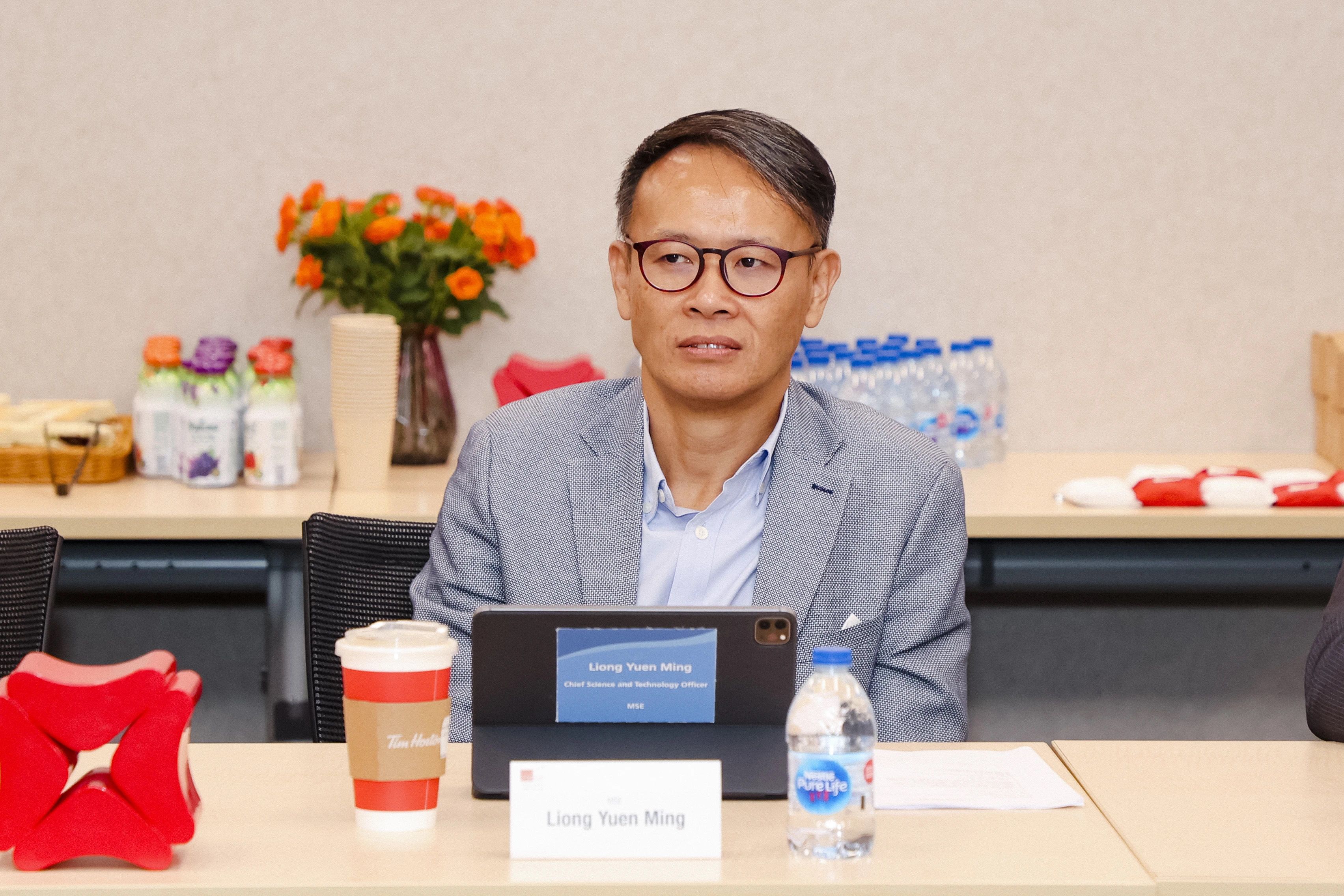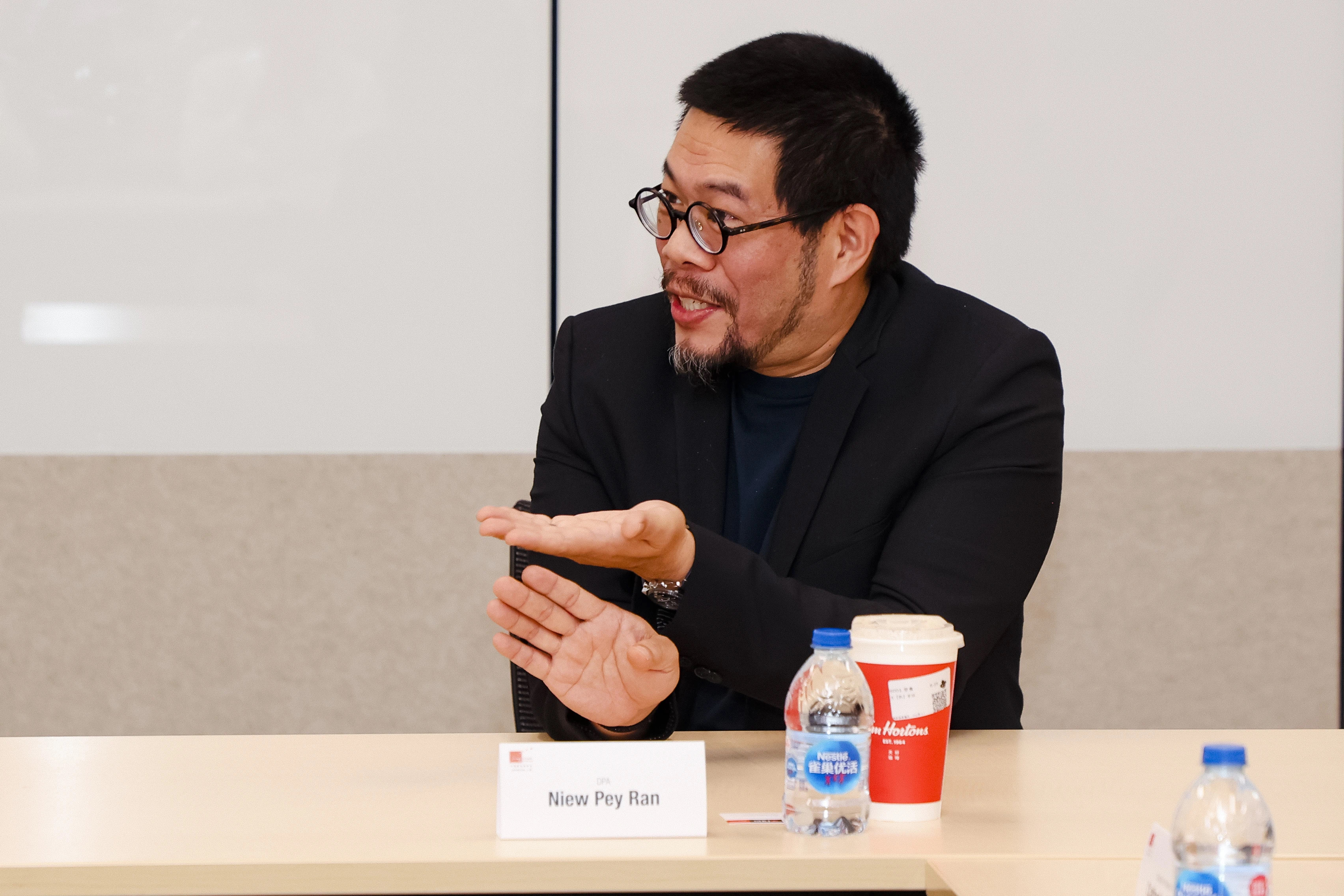 We would like to thank DBS China for providing the venue, and the various companies and industry representatives in attending the session.
我们衷心感谢星展银行(中国)为我们提供活动场地,以及出席的各位企业代表们。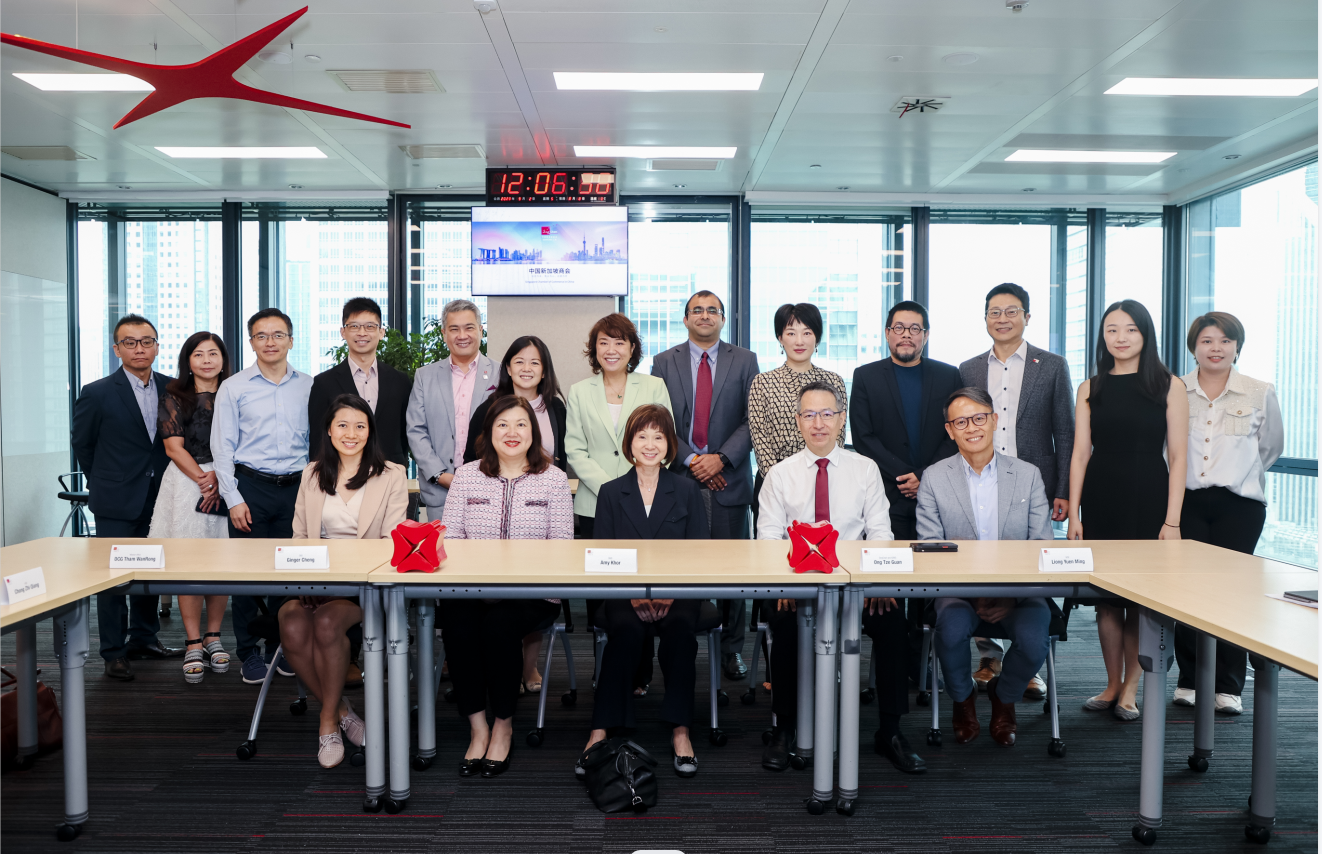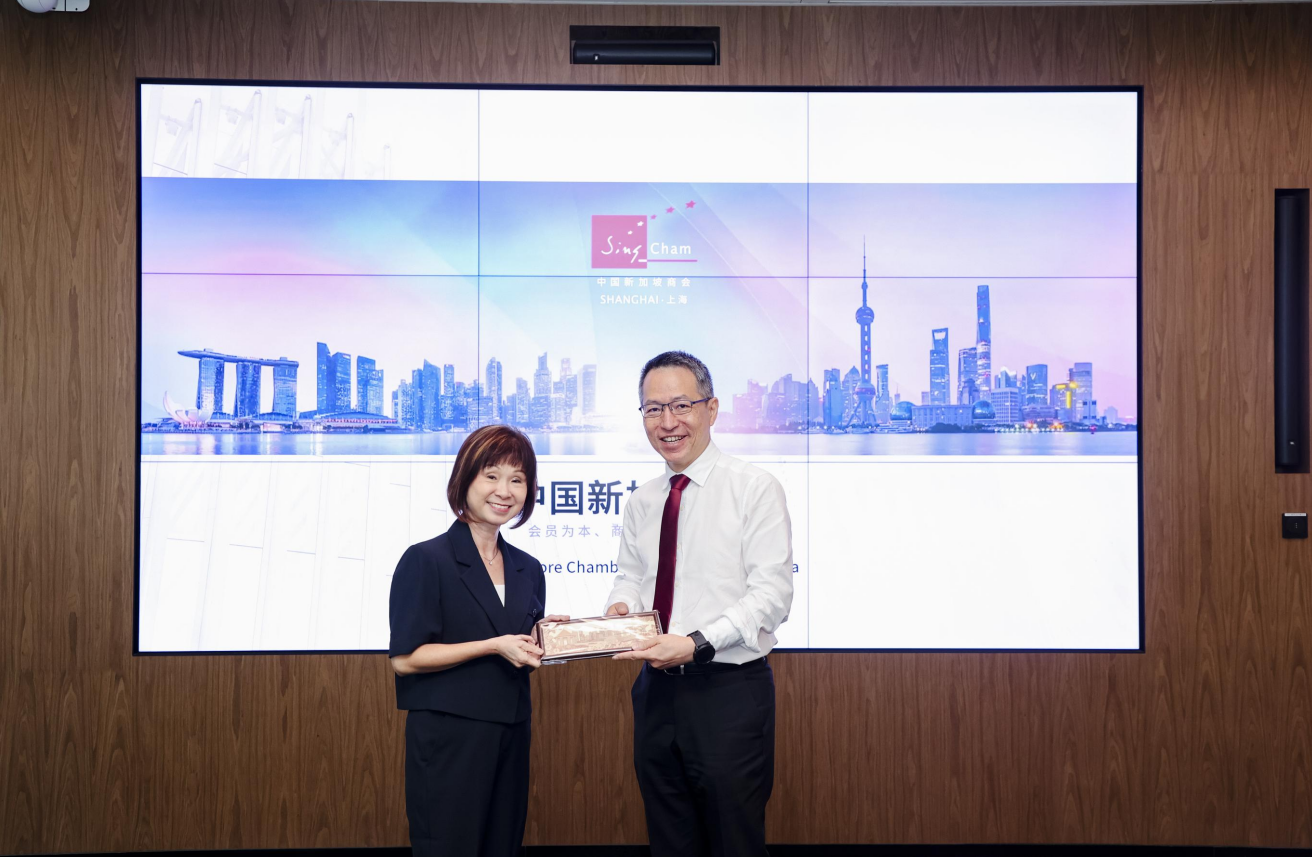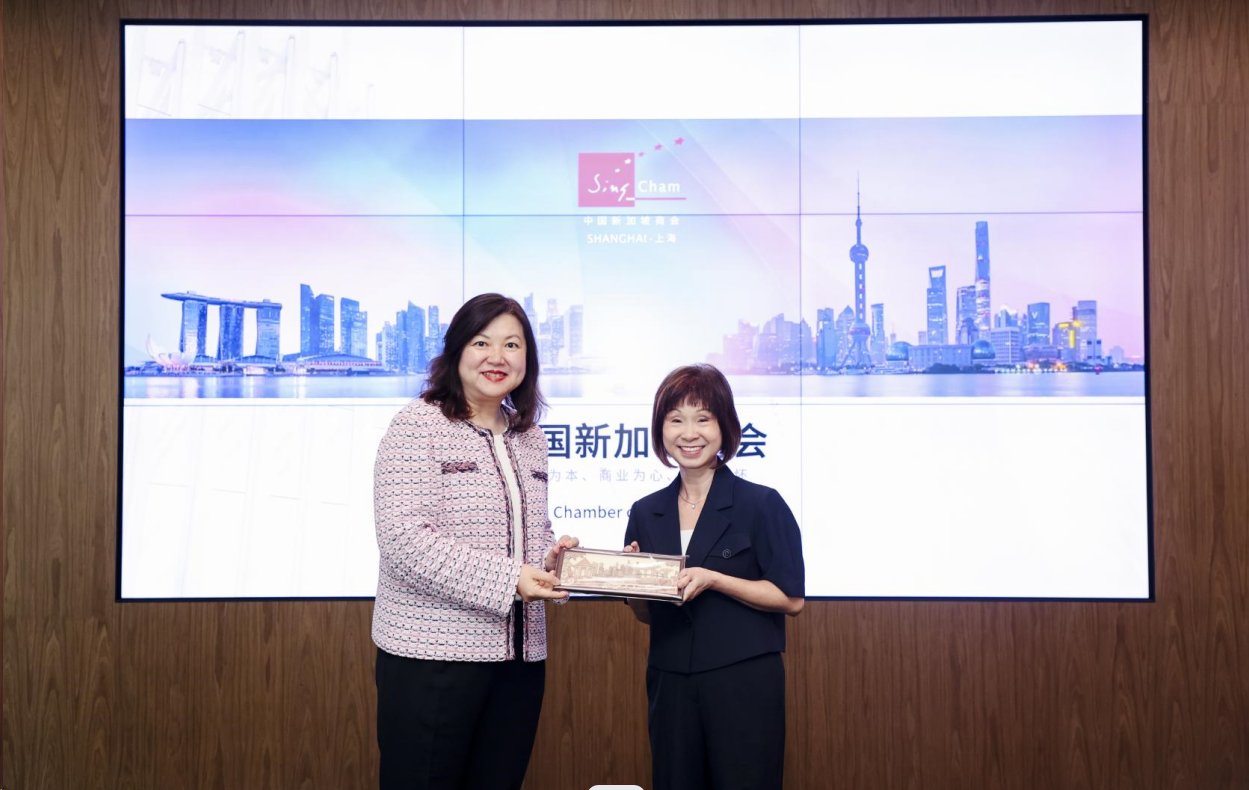 About the participating companies:
CapitaLand
CapitaLand Group (CapitaLand) is one of Asia's largest diversified real estate groups. Headquartered in Singapore, CapitaLand's portfolio focuses on real estate investment management and real estate development, and spans across more than 260 cities in over 40 countries.
Withinits ecosystem, CapitaLand has developed an integrated suite of investment management and operating capabilities that supports its real estate businesses and platforms in building core competencies across the real estate value chain. With this full stack of capabilities, CapitaLand can optimise the strategies of its listed real estate investment management business CapitaLand Investment, and its privately held property development arm CapitaLand Development; to drive competitive advantage for its businesses.
CapitaLand places sustainability at the core of what it does. As a responsible real estate company, CapitaLand contributes to the environmental and social well-being of the communities where it operates, as it delivers long-term economic value to its stakeholders.
DBS Bank (China)
DBS Bank opened its first representative office in Beijing in 1993 and was among the first group of foreign banks and the first Singaporean bank to incorporate in China in May 2007.
DBS China currently operates out of 12 branches and 21 sub-branches and has more than doubled its staff strength to over 1,900. DBS China's business focuses are institutional banking, global transaction services, treasury and markets, SME banking as well as consumer banking targeting the affluent segments.
Our commitments to a more sustainable future are wide-ranging. They encompass the way we do business, sustainable practices in our operations, as well as our role in the communities we are a part of.
Commitment as the first Singapore bank to sign up to the Net-Zero Banking Alliance (NZBA) to realise a net zero future by 2050 or sooner.
Achieved Carbon Neutrality at the end of 2022 in our own operations.
Additional funding of SGD 100 million to further improve lives in Asia.
https://www.dbs.com/china/en/about-us/default.page
DP Architects
DP Architects is a leading multidisciplinary design practice in Asia with over 1,000 staff, 18 global offices and 8 specialist companies. Since its inception in 1967, DP Architects has been driven by a strong philosophy devoted to the shaping of a sustainable public domain and civic society. The firm has evolved in tandem with Singapore's nation building and has shaped the evolution of the country's remarkable cityscape through the design of notable landmarks including Golden Mile Complex, People's Park Complex, Esplanade Theatres on the Bay and Singapore Sports Hub. The firm has worked on projects of immense scale and diverse functions, some of them the largest of their type, including The Dubai Mall and Resorts World Sentosa.
GOODCYCLE
GOODCYCLEPlastic Ecological Transformation 上海好润环保科技有限公司 was founded in July 2017 by Jane Zhao, a post-80s mother of two and fashion manufacturing industry veteran. Perturbed by the state of pollution in China that her children will be inheriting, she decided to tackle the root problem of raw material.   By combining the traditional textile industry with sustainable development, it not only meets the needs of the modern age, but also protects the  "green rivers and green mountains" for future generations. 
GOODCYCLEreduces environmental pollution from the root by using 100% rPET, local, certified and traceable material for all its products. This material which is technically known as recycled Polyethylene Terephthalate comes from recycled plastic bottles and can be transformed into many styles of fabrics. Our most popular products include rPET-canvas bags (made from 3 recycled bottles) and rPET-silk scarves (made from 3 recycled bottles). 
GOODCYCLE founders' bring with them many years of experience from various parts of the supply chain in the textile manufacturing industry. This enables them to produce high quality products in the most time and cost efficient manner.
H2MO
Inspired by nature, H2MO is the world's first to develop water separation membranes using the hollow-fiber Bio-programmable Membrane (BPM) technology – a biomimetic membrane production process (without Aquaporin). This platform technology is employed in the manufacturing of a new generation of ultra-high permeability and high fouling resistant Reverse Osmosis (RO), Nanofiltration (NF) and Forward Osmosis (FO) membranes.
The BPM technology was developed by Prof. Wang Rong who leads the Singapore Membrane Technology Centre (SMTC), under NEWRI of Nanyang Technological University, in conjunction with Singapore's water utilities PUB.
Today, H2MO has offices and research centres in both Singapore and China focusing on the commercialisation of the BPM technology.
https://h2mo.com
Mojia Biotech
MojiaBio is a fast-growing, product-focused biomanufacturing company committed to sustainability and a circular bioeconomy. MojiaBio develops and implements sustainable chemical manufacturing technologies using renewable carbon sources and green processes. Its product portfolio encompasses food ingredients and a range of bio-based materials. MojiaBio has its operating headquarter in Singapore, R&D activities in China, Singapore and the US, and manufacturing sites in China.
https://www.mojiabio.com
Nippon Paint China
Nippon Paint China is affiliated with NIPSEA Group. NIPSEA Group is a paint and coatings solutions company, established in 1962 by Goh Cheng Liang, whose ancestral home is Chaozhou, China. Nippon Paint set up its first company in China in 1992, when few international paint companies were in the market. It ranked now the first in Asia and the fourth globally in the industry. The sales revenue of Nippon Paint China exceeds RMB 20 billion in 2022, being the champion of paint sales in China for 24 consecutive years. With its headquarters in Shanghai, Nippon Paint China has more than 70 manufacturing facilities and operations across the country, and about 11,000 employees.
Nippon Paint China is guided by its mission torefresh wonderful living space, and is committed to providing high-quality innovative products. Today Nippon Paint China plays a key role in the paints and coatings industry, including decorative coatings, industrial coatings, automotive coatings, marine coatings, waterproofing & tiling materials, protective coatings, coil coatings, powder coatings, auxiliary materials and other fields.
Olam Agri
Olam Agri is a market leading agribusiness, focused on high-growth markets, with a global origination footprint, processing capabilities and deep understanding of market needs built over 33+ years.
Our food, feed, fibre, agri-industrials & ag-services capabilities span 30+ countries. We're at the heart of global food and agri-trade flows, working with farmers and customers to connect local origins and global destinations.
https://www.olamgroup.com
Temasek Holdings
Temasek is a global investment company headquartered in Singapore. We are a generational investor, seeking to make a difference always with tomorrow in mind.
Sustainability is at the core of all that we do — from our mandate to deliver sustainable value over the long term, to our strategy of how we operate as an institution, shape our portfolio, and engage our portfolio companies to build sustainable businesses. We are committed to catalysing solutions to global challenges and activating capital – financial, human, social and natural – to bring about a better and more inclusive world for all.
In recent years, we have made progress and achieved several milestones along our journey to embed sustainability in everything that we do. In doing so, we have moved closer to our targets and goals.
https://www.temasek.com.sg/en/index
Timing Carbon
Timing Carbon Asset Management is a leadingemission trading and climate neutral service provider. Through trade and international partnerships, we help companies all over the world contribute to a greener economy and a more sustainable future. We are qualified and certified to trade every classification of carbon asset including clean development mechanism (CDM), the international voluntary emission reduction standard (VCS), the gold standard (Gold Standard), and the development of the international renewable energy certificate (I-REC), also the development of the nature based solution (NBS) projects.
With offices in bothBeijing and Shanghai and Singapore, Timing Carbon Asset Management has a presence in the major cities for carbon asset development and the promotion clean technology. With a wealth of experience in the sector, a professional legal team and strong financial backing we offer our clients a high degree security and the expert guidance needed to navigate the complexity of carbon asset trading. 
Scan and Join SingCham!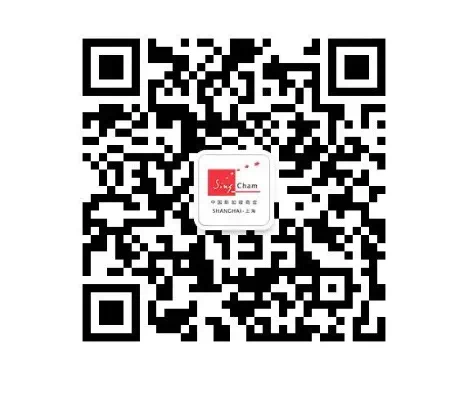 Scan and Follow us on Wechat!