Executive Committee for Year 2022-2024 - Name of Nominees
To: All Members of SingCham Shanghai
This is the list and biography of members who are nominated / self-nominated to run for the election of the SingCham Shanghai Exco. 
If any member in the list does not wish to be listed as a candidate, please inform the Election Committee in writing by sending an email to singcham@singcham-shanghai.org within three (3) days from the date of publication of the list. The Election Committee will publish the final list of candidates on the website of SingCham Shanghai two (2) days before the date of the election.
Warmest regards
Election Committee (2022-2024)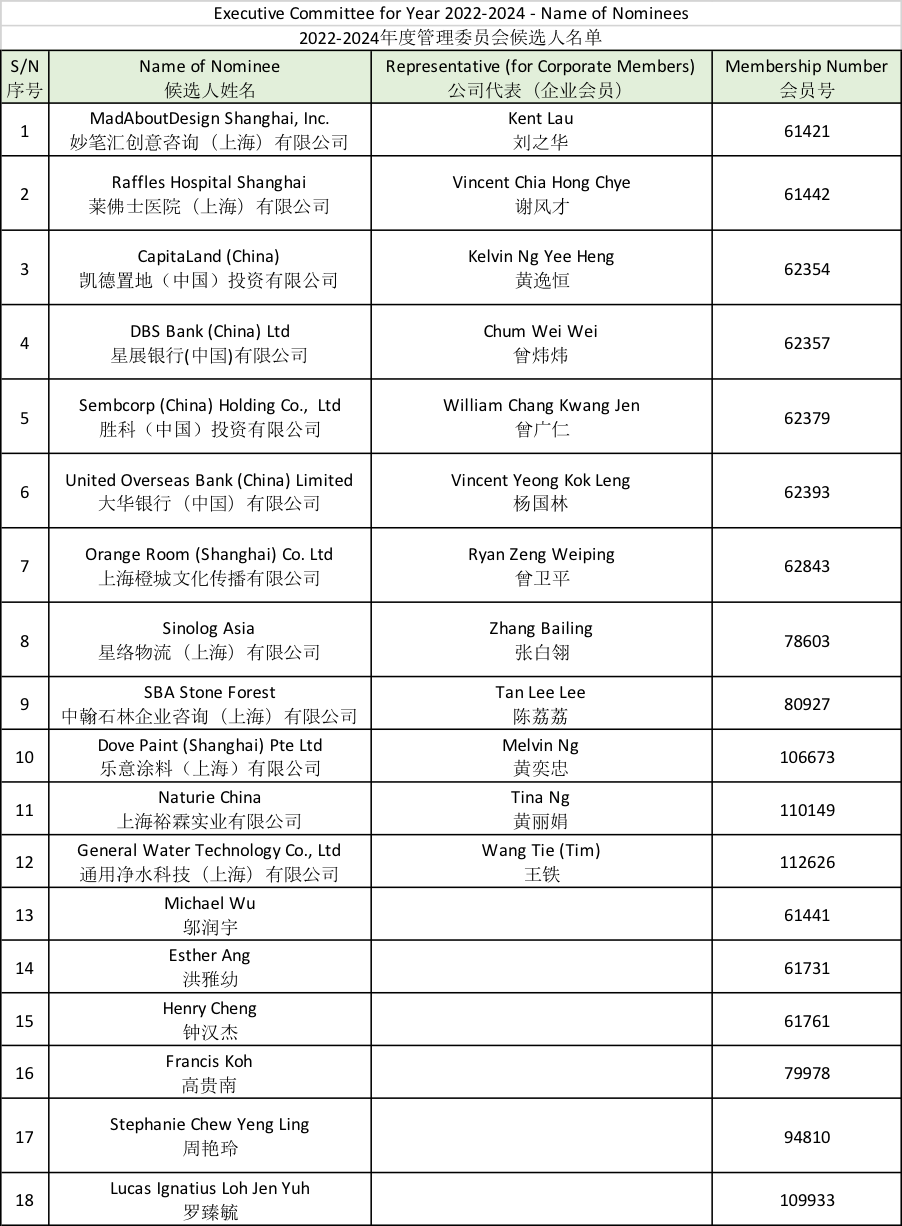 Biography of Nominees for the 
Election of Executive Committee for Year 2022-2024
Corporate Members
MadAboutDesign
MadAboutDesign is a multi-disciplinary design agency that can help you communicate your brand across the shores of Singapore, China and beyond. From crafting the message, to creating the experience in the physical and digital realms, we make design work for you and your audience.
Representative Designation : Executive Director
CV of Kent Lau
Kent is Founder and Executive Director of MadAboutDesign Shanghai. With 16 years in Shanghai, he is a creative guy, cartoon artist, taskmaster, disrupter, an entrepreneur and an active volunteer.
Kent is Co-founder and former Secretary-General of SingCham Shanghai. Prior to that he served in Shanghai Singapore Business Association(SSBA) as VP in 2017/18 and Secretary-General in 2018/19. In recent years, he actively organises meetups and gatherings to help keep Singaporeans and the local community connected. He also served in the Senior Leadership Team of OSG Youth Alliance in 2020/2021.
From 2017 to 2019, Kent organised 3 National Day Dinners in Shanghai, formed member communities and kickstarted numerous business-social initiatives and events with fellow volunteers in what he would call 'a journey of social experiments'.
Kent loves to draw and write, read and run, hike and sing. He is effectively bilingual. He holds a bachelor degree in Computer Science from NUS and was a Lieutenant-Colonel (NS) of Singapore Army.
Kent looks forward to serving the Singaporean community especially in member engagement, volunteer programme, arts and culture, and youth initiatives. Unmistakably Singaporean, Kent believes in making a difference.
Raffles Medical Group (Raffles Hospital Shanghai)
Raffles Hospital Shanghai was officially opened for operations on 26 July 2021. By 1 January 2022, the Hospital moved into 24-hour operations mode, commencing clinical services in Emergency Room and Inpatient services. Raffles Hospital Shanghai is the latest 400 inpatient bed medical facility to be added into the Raffles Medical Group (China) network, which now covers 14 cities across Asia with 8 cities across Greater China, including 3 hospitals in Beijing, Chongqing and Shanghai.
Representative Designation: Managing Director
CV of Dr Vincent Chia
Dr Vincent Chia joined Raffles Medical Group on 10th February 2020. He presently holds the position of Managing Director of Raffles China Healthcare and General Manager of Raffles Hospital Shanghai.
Dr Chia was the Founder and MD of Asian Healthcare Solutions, having worked as an independent healthcare consultant from 2017 to end 2019 and covered strategy, quality and operational projects in mainland China and South East Asia. Dr Chia was also previously the CEO of Gleneagles Hospital Singapore and held other senior management positions in healthcare before joining Raffles Medical Group.
CapitaLand Development
CapitaLand was one of the first foreign real estate players in China. Since its entry into China in 1994, CapitaLand has expanded its portfolio to more than 200 properties in over 40 Chinese cities. CapitaLand has established a track record of developing about 23 million square metres of floor area, with assets under management valued at over RMB270 billion in China. In addition to establishing itself as one of the largest foreign developers in the country, CapitaLand is also the Singapore company with the largest investment in China.  
CapitaLand has identified five core city clusters to focus its growth in China. They are Shanghai/Hangzhou/Suzhou/Ningbo, Beijing/Tianjin, Guangzhou/Shenzhen, Chengdu/Chongqing/Xi'an and Wuhan. 
Leveraging the Group's end-to-end value chain offerings ranging from investment and fund management to development and operations, CapitaLand looks forward to enhancing its real estate ecosystem with partners to meet the changing needs of Chinese consumers as China enters new stages of urbanisation and urban renewal. 
Representative Designation : General Manager for East China
CV of Kelvin Ng Yee Heng
Kelvin Ng is currently General Manager for East China at CapitaLand Development. Prior to this, he held various appointments with CapitaLand, including GM for Township Project in Xi'an as well as being part of the team looking at digital initiatives and SAP implement in China.
Before joining CapitaLand, Kelvin was based in Guangzhou with IE Singapore and was concurrently the Commercial Vice-consul at Singapore's Guangzhou consulate.
Having lived and worked in China for the last 12 years, Kelvin will be able to leverage on his experience as well as the many resources at CapitaLand and in China to contribute to SingCham Shanghai's initiatives.
DBS

Bank (China) Co., Ltd
DBS Bank (China) Co., Ltd. is a wholly owned subsidiary of DBS Bank. In 1993, DBS established its China representative office in Beijing. In May 2007, DBS became one of the first patch incorporated foreign-funded banks registered in China and the first among Singaporean banks. As of December 2021, DBS China has total assets of RMB 139.93 billion and paid-in capital of RMB 8 billion. DBS China has 12 branches and 21 sub-branches and more than 1,900 domestic employees across mainland China; encompassing corporate and institutional banking, personal wealth management, treasury and global transaction business, etc., serving domestic large and medium-sized state-owned, private and multinational enterprises, SMEs and individual customers.
Representative Designation : Managing Director and Head of Global Transaction Services
CV of Chum Wei Wei
Wei Wei is the Managing Director & Head of Global Transaction Services
DBS Bank (China) Limited, responsible for the Bank's transaction banking products & services, digital platforms, and product sales. He recently joined from Singapore in 2021.
Wei Wei has over 26 years of banking experience, with more than 9 years with DBS Bank. Prior to DBS, he has worked for top global banks like HSBC, Standard Chartered and Citibank; encompassing a wide range of experience in relationship management, transaction banking and project management.
Being new to Shanghai, Wei Wei would like to be closer to the community, learn and grow together to drive more business and social events.
Wei Wei graduated from Nanyang Technological University Singapore in 1995 with a Bachelor's Degree in Financial Analysis. He is married with two teenage children.
Sembcorp (China) Holding Co Ltd
Sembcorp is a leading global renewable energy and urban sustainable solutions provider, providing renewable energy and high-efficiency power generation as well as integrated urban solutions in more than ten provincial regions across the country.
Representative Designation: Senior Vice President
CV of William Chang Kwang Jen
Mr. William Chang joined Sembcorp Industries from 1999. He holds the position of Senior Vice President and is currently responsible for Joint Venture partnerships & government relations within China, as well as developing business opportunities in the renewable energy sector in China. He also oversees Sembcorp's conventional energy and water businesses in China.  Since October 2020, he was also appointed as Vice Chairman of Singapore Chamber of Commerce and Industry in China – Shanghai Chapter and has been focusing on business groups development. His past work experiences included industry development and European operations under the Singapore Economic Development Board.  Based out of Germany and the UK, he has managed investment promotion, business development for the whole Europe, cultivating good relationships with European clients and stakeholders. He has also managed Sembcorp's joint venture power and water assets in the United Arab Emirates and in China.
He holds a First Class Honors degree in Manufacturing Engineering & Management from Loughborough University of Technology UK. Meanwhile, he is fluent in German language and has a degree in German Language Teaching & Linguistics from Goethe-institute & Fachhochschule Konstanz.  His career started in the Singapore Economic Development Board before transitioning to Sembcorp Industries. 
Based in Shanghai since  the end of 2018, William hopes to contribute to SingCham through his experience with Singapore and China Governments, as well as Business China network, to promote our Singapore brand, further strengthen collaboration between GLCs and SMEs, enhance networking between Singapore and Chinese enterprises, and expand social networking within the communities not only in business but also in the arts and culture arena.
United Overseas Bank (China) Limited (UOB (China))
United Overseas Bank (China) Limited (UOB China) is a wholly-owned subsidiary of United Overseas Bank Limited (UOB), a leading bank in Asia. UOB China is headquartered in Shanghai and was incorporated in the People's Republic of China on 18 December 2007.
From the first representative office in Beijing in 1984, UOB China have grown the network to 16 branches and sub-branches in major Chinese cities.
In 2006, UOB China was the first bank from Southeast Asia authorised to settle capital accounts in Shanghai. UOB China received a retail Renminbi (RMB) licence and Shanghai Gold Exchange (SGE) trading membership in 2008 and 2011 respectively. In 2012, UOB China was awarded a Qualified Domestic Institutional Investors licence, and was one of four foreign banks to participate in bullion trading on the SGE (Shanghai Gold Exchange) interbank platform. UOB China is one of the first foreign banks to obtain a local mutual fund licence in China in 2013. The following year, a sub-branch was established in the Shanghai Free Trade Zone, and obtained a trial market maker licence for interbank gold bilateral transactions and a market maker licence for direct trading between RMB and the Singapore dollar in the interbank foreign exchange market. The gold import and export licence was also obtained in 2015.
In 2018, UOB China became one the first market makers to execute direct trading between the RMB and the Thai Baht. UOB China also successfully priced its three-year onshore RMB financial bond through the China interbank market and the Bond Connect scheme (BCS), which is the first onshore financial bond issued by a Southeast Asian bank through the BCS. In 2019, UOB China became the first Southeast Asia-headquartered bank to be a member of the Shanghai Futures Exchange and the first foreign bank to be a Fixing Member for the Shanghai Silver Benchmark Price. UOB China also became one of the first foreign bank members of the Cross-border RMB Trade Finance Trading Platform in 2020. In 2021, UOB China is approved to be one of the first direct market makers for RMB and Indonesia Rupiah. These achievements have enabled it to widen the product and service offering to customers operating in China.
Representative Designation : Chief Risk Officer of UOB China
CV of Vincent Yeong
Vincent Yeong has been with UOB Group for the last 16 years, of which he has been seconded to UOB China for 13 years in Shenyang, Beijing and now Shanghai.
Vincent established UOB Shenyang Branch in 2006 and became its first General Manager. He was later transferred to UOB Beijing as the General Manager from 2010 to 2018. He was concurrently appointed as the alternative CEO of UOB China from 2015 to 2018 before he moved back to Singapore. He was then appointed as Head of Belt Road Initiative/ESG Solutions Head from 2018 to 2021. In Nov 2021, Vincent was transferred back to UOB China as Head of Risk Management and now as Chief Risk Officer since Feb 2022.
Vincent has been active volunteer to SingCham and served 3 terms as Treasurer of SingCham Beijing from 2012 to 2018, working closely with the appointed accountant to ensure annual submission of the audited accounts to be lodged with China's Register of Societies. Now in Shanghai, he would like to continue to contribute to the growth of SingCham Shanghai.
Orange Room (Shanghai) Co. Ltd
Orange Room was incorporated in 2008 with headquarter in Singapore. Orange Room Group has strong market access with offices in China, the Philippines and Vietnam, and partnerships across 8 more countries.
Today, Orange Room is the owner of various IPs in the sports industry, particularly in mass events that cater to different demographic segments with the same goal of improving one's well-being. Through the decades of community building, Orange Room has a diverse, engaged and growing database of about 700,000 aspiring sportsmen and fitness enthusiasts.
Representative Designation : General Manager
CV of Ryan Zeng Weiping
Ryan received education from Zhejiang University, National University of Singapore and China European Internal Business School. He worked in Supply Chain Management business for more than 20 years and posted in China since 2001. He started Sports and Wellness business in China in 2017 (Orange Room) and brought Singaporean Triathlon Brand "Tri-Factor" to China.
Ryan is familiar with both Singapore and China business and culture environments. He has network with Chinese companies and entrepreneurs, introduced some of them to join in SingCham, and also helped some companies to explore business opportunities in ASEAN region. Ryan is experience in organizing events and can reach out various communities in Shanghai especially in sport-related community.
Sinolog Asia
Sinolog Asia is headquartered in Singapore, and headquartered in Shanghai Free Trade Zone in China. Its business covers all parts of the country. It has established the logistics chain with the northeast, Yangtze River Delta and Pearl River Delta as the base, radiating all over the country. At present, it has covered more than 300 important cities' door-to-door distribution, and won the Class A qualification of China Customs.
Sinolog Asia integrates more than 50 years' experience of Southeast Asia Logistics and information technology, organically combines traditional logistics service with emerging network technology, aiming to bring a new concept of logistics service for customers.
Representative Designation: Managing Director
CV of Zhang Bailing
Bailing was born in China and became a Singaporean in year 2003. She completed her university in Xuzhou, Jiangsu, China, and major in Accounting and Finance. During her stay in Singapore, she was very grateful to receive the warm-hearted Singapore spirit and soon became the new generation Singaporean.
Bailing is stationed in Shanghai and worked as a Managing Director of Sinolog Asia. Her company engages in supply chain business in Southeast Asia (Singapore, China and Malaysia).
Her company, her team and herself benefitted from SingCham and ESG during these years, especially during the Covid-19 pandemic. As such, she is sincerely volunteered herself to join the committee of SingCham, so she can support and assist in any way for the Singapore committee in Shanghai, Beijing or even Singapore.
SBA Stone Forest
SBA Stone Forest (SBASF) is a Corporate Advisory and CPA group that has focused on serving foreign enterprises in China since 2001. SBASF adopts international standards and best practices, while delivering Singapore-quality services.
Headquartered in Shanghai with branch offices in Beijing, Suzhou, Shenzhen, Chengdu and Hangzhou, SBASF helps foreign investors to form legal entities in China smoothly and continue to support them in navigating China's regulatory and business environment.
SBASF is a member of Allinial Global, a global organization of independent accounting, auditing and consulting firms united by a commitment to providing the highest quality service to their clients.
Representative Designation: Director
CV of Tan Lee Lee
Lee Lee is presently the Head of China at SBA Stone Forest. She is a Certified Public Accountant (Australia) and has been living in China for the past 16 years. She is familiar with both Chinese and international cultures. She now assists many foreign companies (including Singapore) to understand China's complex and dynamic business environment, offering them practical solutions to overcome local challenges. Lee Lee is also passionate about youth development and has been actively involved in the ITE China exposure program as an alumni.
DOVE PAINT (Shanghai) Pte Ltd
DOVE PAINT (Singapore) is a chemical conglomerate with operations in Asia Pacific and it provides numerous building materials to Theme Parks, Resorts, Commercial and Residential Buildings, as well as Industrial Sectors like oil rigs and chemical plants.
Representative Designation : Co-founder and Director
CV of Melvin Ng
Melvin is the Director of Dove Paint (Shanghai) Ltd and has been in Shanghai, China for more than 20 years. He is very outgoing and adventurous. He is also  an expert in marketing and customer-relation. He is most passionate when launching new products in difficult market and understand the future of the market and what it takes to push through different channels. Melvin also manages overall sales operations and business development in China and forms new joint ventures with other international partners that want to have a presence in China markets.
Someone with a compassionate heart, Melvin is very active in supporting charity events to help the less fortunate and needy. He is in the board of two charitable organizations.
With Melvin's long business exposure in China and expertise in build environment, he will be able to help seek business opportunities for the chamber's SMEs businesses.
Naturie Chin

a
Naturie China was established in Shanghai in August 2013. It is a cosmetic ODM service provider and also owns various brands of food products.
Representative Designation : Managing Director
CV of Tina Ng
Tina is the Managing Director of Naturie China. She came to China in 2006 with an intention to explore Chinese business culture and environment and returned back to Singapore soon. The whole set up in China attracts her, making her stay till now. She has since ventured into various trades, from cosmetics to now F&B. This journey has been really amazing and meaningful for her in the last 17 years, and she is still opening up new avenues. It will be great to share her experiences with more fellow Singaporeans and encourage them to get out of their comfort zone and see the real world, the real them.
General Water Technology Co. Ltd
General Water Technology brings innovated "Water As a Service (WaaS)" business model and cutting edge technology to revolutionize the way people drink water, while reducing plastic pollutions from single use bottle water. GWT's received strategic investments from GE and top tier PE firms including Gaocheng Capital, GGV and SourceCode.
Representative Designation : Chairman and Co-founder
CV of Tim Wang
Tim Wang is co-founder and chairman of General Water Technology Co. Ltd (GWT).
Prior to starting GWT, Tim served as CEO & President of Canature Group, a public listed company in China and a global leader in the residential water filtration industry.
Tim began his career at General Electric Company (GE), working through product management, corporate audit and corporate M&A functions. Tim also worked for Crouse-Hinds (an Eaton Company) as global VP and general manager for Asia Pacific region. Tim spent eight years in Ecolab, a global leader in water management, food safety and public hygiene, with progressive responsibilities as VP global strategy, and EVP and president, Greater China region.
Tim is a fellow of Aspen China Fellowship Program, and a member of the Aspen Global Leadership Network. He serves as a director of the China Health Inspection Association and China Institute of Food Science and Technology.
Given Tim's strong connection in China, and as a new Singaporean, Tim would like to contribute back by helping to connect Singapore businesses with the Chinese businesses, providing Singapore businesses with more platforms and opportunities to grow in China.
Though Tim was only introduced to SingCham recently, he already supported a few SingCham organized initiatives like the 'Help SG F&B', bought 30k RMB worth of vouchers from Singaporean owned restaurants and sponsored 5 units of their company's water filtered systems in the recent National Day Dinner.
Tim received his MBA degree from Harvard Business School with high distinction (Baker Scholar). He also holds master's and bachelor's degrees with honor in Mechanical Engineering from Shanghai Jiao Tong University.
Individual Members
Michael Wu
Co-founder, Just One World Pte Ltd
CV of Michael Wu
Michael Wu serves as a Vice Chairman of SingCham Shanghai.
As founder of Just One World Pte Ltd, Michael is an investor of and consultant to the 月湖翠 F&B Hospitality group, with eight restaurants in Shanghai and a resort at Moganshan. Just One World is also represented in China by 辑域(上海), a Chinese company working closely with SOEs in the educational tourism arena.
As a certified independent director and a member of the Singapore Independent Directors, Michael has had appointments on boards of both listed and non-listed companies. Recently he has been appointed representative for two funds, one based in Singapore and the other in Hong Kong.
Esther Ang
Co-founder and Deputy General Manager, Bridge2
CV of Esther Ang
Esther is the co-founder and Deputy General Manager of Bridge2, a one-stop service centre that brings the local and foreign business communities together, facilitates connectivity and promotes collaboration across the regions. It offers a suite of integrated business services including events, project management, overseas education and many more.
Esther was the Senior Manager (China & North Asia) at Singapore Business Federation, before coming to Shanghai 6 years ago. She was an active volunteer of SingCham Shanghai for about a year before she was recruited as a full-time Executive Manager and single-handedly kept the day-to-day operations of the Secretariat Office from 2019 to 2022.
Esther is very friendly and dedicated. She engaged very well with the members, sponsors, stakeholders and partners. She often went above and beyond her call of duty to serve the members and the Singapore community, such as helping many Singaporeans in the application of PU letter to come back to Shanghai during the initial COVID-19 pandemic situation. She also took the lead to execute the Let's Eat community initiative to help the Singapore F&B operators in 2020, Suzhou Mission Trip, CNY Lohei 2021 & 2022, and many more.
Esther hopes to continue to help the Singapore Community through her experience, the vast resource and local business network, to facilitate more business interactions and collaboration among Singapore, Chinese and international business organizations in China.
Henry Cheng
Managing Director, Durst (Shanghai) Trading Co Ltd
CV of Henry Cheng Hang Keat
Henry has been in China since 2005. Initially starting his own export business in Foshan (Southern China) in construction material industry and he shifted to Shanghai 7 years ago to take on the management role of a European MNC after selling his business.
Henry has been serving in the Shanghai Exco team between 2020 to 2022 in which he serves as the treasurer. Henry has been driving SingCham's China Ready Youth initiative on the National Agenda.  He took lead in all 4 Youth program in collaboration with NYC, SMU, NTU, NUS, ITE  Polys with their counterparts 交大,复旦and 北大.  These 4 programs have benefited 800-1000 youths from both countries. Henry believes in bringing his experience both in business or personal to the youth. By doing so, the Singapore younger generation could navigate better in the Chinese environment. Henry also believes in encouraging the youth in volunteerism by giving back to the community.
Henry also strongly believes in the people to people exchange among Singaporeans and Shanghainese, through exchange of arts and culture to let each other gain a better understanding of each other's heritage, hence forging friendship which will lead to business cooperation. Throughout the two years, he has conducted 2 series of CityWalker 2.0 and he had restarted the Badminton/Yoga and Lunch session which the Singaporean community come together to sweat out and enjoy food prepared by the Singaporean/ Malaysian joints.  During the Covid period, Henry and William initiated the Sing Singapore Sing session to try to lift the spirits of the Singaporeans under the lockdown in China.
Henry is willing to commit himself to the good cause of building the bridge between Singaporeans and Shanghainese to foster friendship among them. Henry also believes in building a strong social bond within the Singaporean community through Sports, Cultural, Kindness and Volunteerism.
Francis Koh
CEO, Dfactor
CV of Francis Koh
Francis Koh moved to Shanghai in 2001 as a software consultant for a fintech software company attaching to projects of OCBC, BEA and Lee and Fung (HK). Later Francis started his own design and built company. Projects include the Winter Olympic main venue as EPC, Xinjiang General Hill Master Planning, Beijing Ski and Hot Spring Park full design, design and build of Bilibili Office Building, Amara Hotel, Pudong Zhong Rong Shopping Mall, Walmart, Visa, JTC, BHP Billiton, Singapore Tourism offices to name a few. On the side, Francis has also invested in a food stall, a spa, a bar, and a steel trading company as well as space rentals in 田子坊。
Francis served as first vice chair since the founding of Singcham Shanghai in 2018-2022. He led the Singcham-Maycham Xinjiang business tour in Apr 2019; designed the 2019 National Day Celebration Dinner; the Let's Eat save Singapore restaurants initiative; co-organised the first decentralised National Day Celebration in 2020; Business Speed Dating event involving Shanghai Federation of Industry and Commerce with 6 concurrent talks in Apr 2021. As volunteer after leaving exco in early 2022, he led the lucky draw sponsorship recruitment and hosted 1965 restaurant on actual day.
Francis wishes to continue representing the SME and Food sector of Singcham and the Singapore community as he had done for the past 5 years. He has hands on knowledge of the local business environment and will be useful for new comers seeking to survive as a SME in Shanghai.
Stephanie Chew
Partner, KPMG
CV of Stephanie Chew
Stephanie is a partner at KPMG Advisory - Risk Consulting unit, specializing in Life-Science sector.
Stephanie has been in Shanghai for 11 years. She has over 19 years of regional and global experience in risk management, internal audit, internal control and ethics & compliance with the focus in life sciences industry.
Stephanie started her career with KPMG Singapore audit team and subsequently moved in-house as senior corporate auditor. Prior to joining KPMG, Stephanie worked as compliance officer for Fortune 500 medical device companies in China for the last 10 years responsible for Greater China and APAC.
Stephanie participates actively in activities organised by voluntary groups such as APEC Business Ethics forum and Lifesciences associations.
Her past experience as a Chief Compliance Officer with a US MNC has tasked her with a vast knowledge in supporting businesses with appropriate business practices, especially in China to maintain sustainable growth and meeting Corporate expectations.
Stephanie would like to contribute and support fellow business community to develop and grow in China.
Stephanie holds a bachelor's degree in Accounting and Finance from Macquarie University. She received her Master of Laws degree from Fudan University, majoring Chinese Business Law.
Lucas Loh
Group Co-President, Hopson Development Holdings Limited
CV of Lucas Loh
Lucas joined Hopson Development Holdings Limited in 2021 as its Group Co-President, overall in charge of their investment holding properties and real estate fund management business.  Prior to Hopson, Lucas worked in CapitaLand for 20 years, out of which 16 years in its China arm. His last held position in CapitaLand was as China President and Chief Executive Officer (CEO).
Before joining CapitaLand, Lucas worked at Singapore state holding firm Temasek from 1996 to 2001. His early career includes employment in valuation and tax assessment at the Inland Revenue Authority of Singapore.
Lucas is a senior advisor at Singcham and worked closely on its national initiatives.  Lucas was a Chairman at Shanghai Singapore Business Association (SSBA), before SSBA became part of SingCham. Lucas is a strong supporter of the chamber and sponsored many of its events while at CapitaLand.  Lucas was also represented in various business councils set up by Singapore at various Provinces include Guangdong, Zhejiang, Shanghai, Sichuan in China. 
Lucas would like to continue to contribute and drive to the success of the national initiatives while at the same, for SingCham Shanghai to be represented in the steering group. Given his long standing tenure in China and network among local and Singapore communities, Lucas would like to support Singapore businesses coming into China and Chinese companies expanding outward into Singapore.
Lucas holds a bachelor degree in Real Estate from the National University of Singapore and an MBA from Oklahoma City University. He also completed the Advanced Management Program at Harvard Business School.